2021 Chevy Traverse Gas Mileage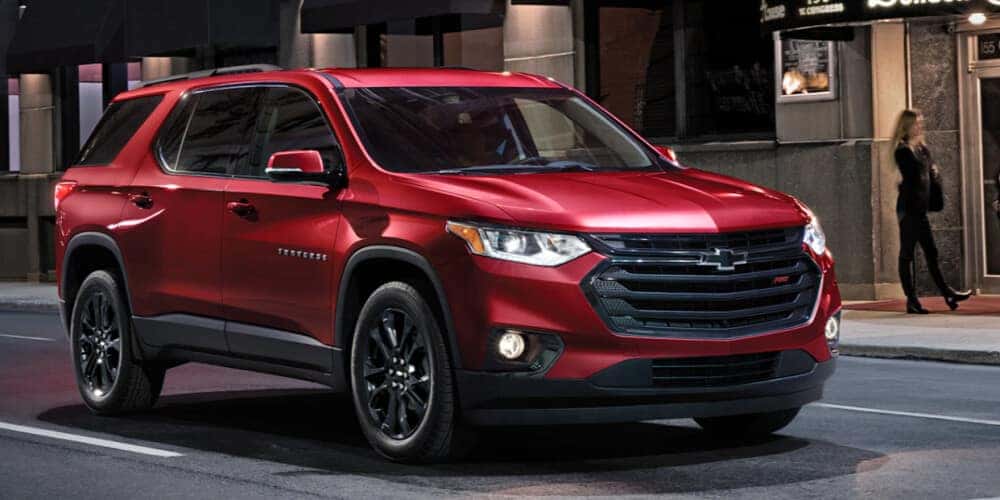 ---
When you have a 2021 Chevy Traverse working for you, you've got a powerful Orange Park vehicle that will get you around town in style. However, what do you know about the Chevy Traverse gas mileage? Thankfully, you'll be happy to know that the 2021 Chevy Traverse provides solid gas mileage that will power your drives for years to come. Check out the Chevy Traverse MPG guide courtesy of Beaver Chevrolet and be sure to finance with us as well!
Chevy Traverse MPG: FWD vs. AWD
The 2021 Chevy Traverse is a front-wheel-drive vehicle in its standard configuration, but you can upgrade to an all-wheel-drive if you wish. Depending on your choice of drivetrain, you'll have a different Chevy Traverse mpg in each case. Take a look:
2021 Chevy Traverse with FWD: EPA-estimated 18 mpg city/27 mpg highway
2021 Chevy Traverse with AWD: EPA-estimated 17 mpg city/25 mpg highway
There isn't that much of a difference in your day-to-day Jacksonville Beach drive, so if you want to get the all-wheel drive, you'll be happy to know that you aren't sacrificing too much in the mileage department.
Chevy Traverse Standard Engine
When you go with the 2021 Chevy Traverse, you're not just getting a strong Traverse gas range, with more than 400 miles to the tank under normal conditions. However, that's just one small part of the Chevy Traverse engine story. Check out what you get in total from the impressive Chevy Traverse standard engine:
3.6L V6 standard engine
Smooth-shifting 9-speed automatic transmission
Standard Automatic Start/Stop technology for increased efficiency
310 hp
266 lb-ft of torque
5,000-pound maximum towing capacity
Chevy Traverse Fuel Efficient Features
The Chevy Traverse has these great features to improve fuel economy as well:
The nine-speed automatic transmission provides for easier shifting that amplifies your MPG.
Intelligent Start/Stop will turn your engine off while stopped at the light to preserve fuel.
Traction Model Select allows you to pick your vehicle's performance on challenging road conditions.
Beaver Chevrolet Has Your Perfect Chevy Here
Take a look at Beaver Chevrolet's selection of Chevy models today. We've got plenty on our lot, so there's sure to be one that is perfect for your Jacksonville Beach needs. Let us help you! Contact us today to learn more.