The True Spirit of Giving Christmas Trees- Beaver Acts of Wow 18
"The true spirit of giving is doing for others with no expectation of gain. It might be a gift you bought, one you made, or the gift of time or volunteer to benefit others. Giving means different things to different people and that's how it should be. Giving is an emotion."
Did you know the history of Christmas trees goes back to the symbolic use of evergreens in ancient Egypt and Rome and continues with the German tradition of candlelit Christmas trees first brought to America in the 1800s? After giving this a lot of thought, Bucky Beaver decided, what better way to continue this tradition than to bring the spirit of Christmas to the homes of our community by paying for Christmas trees! For our random Acts of Wow #18, our crew and of course Bucky, drove out to Callahan, Florida to meet with Mrs. Stacy Griffin and her family at Callahan's ONE AND ONLY Griffin Farm Fresh Cut Christmas Trees!
Bucky was surprised to learn nine-in-ten Americans (90%) Americans celebrate Christmas. That's a lot of people! Bucky remembers the first time he gnawed down a tree, and was able to find red berries and fireflies to decorate it! It was because of the joy he felt while decorating a tree that convinced Bucky to share the spirit of this tradition to many local families, by paying for their trees!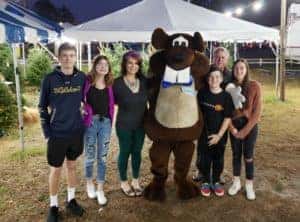 "From Callahan. Thank you so much for the tree last Friday night!!! Wow indeed!!" –Jeffery
Bucky met so many wonderful friends and families in Callahan! As always there were ton of heart felt hugs shared, as well as, a lesson in how to throw and catch a football! Little did anyone know, Bucky Beaver is extremely skilled at this sport!
From our family at Beaver Chevrolet to yours, we hope y'all had a wonderful Christmas! For those who don't celebrate Christmas, Happy Holidays!
A special thanks to the families we met Friday for being so kind and taking a photo with Bucky! And to the Griffin family for having us and allowing us to share the spirit of Christmas with your trees! We appreciate you Griffin family (Jed, Maddie, and Avery) and everything you do for our community!
To view more pictures from random Acts of Wow #18 check out our Beaver Chevrolet Facebook!
6 Holidays This Holiday Season Besides Christmas
1. Diwali – November 14
2. Las Posadas – December 16
3. Winter Solstice – December 21
4. Kwanzaa – December 21-January 1
5. Hanukkah – December 22-30
6. Chinese New Year – January 25